Become a Paddy The Baker Store Holder
Have fun with your own business at the markets and make lots of dough.
If you're looking for a little side hustle and love the market get in touch below to find out more!
- Be part of a well known and respected brand
- Profit form our learnings and understanding of customer needs
- Excellent on-line presence and promotion to drive sales
- Take pride in knowing we only use great. Ingredients and no nasties, ever!
- We offer a supply model that reduces the risk of waste and works for you
- Become part of a growing team.
Hi I'm Emma-Jame
I've being running my own Paddy the Baker stall for over 3 months now and it's great. I'm my own boss, I decide how much I'm going to try and sell. On a good day I do really well and even on my worst days I still make more than my old job. This allows me to just work one day a week to earn my money which means I can devote the rest of my week to my Uni and my soccer.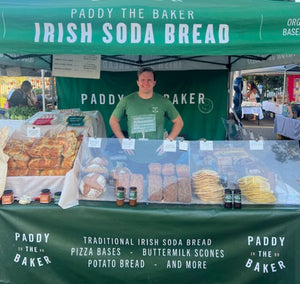 Hi I'm Hugh
I run the Paddy the Baker stalls in the Blue Mountains, its a big day but it's very rewarding, both in terms of satisfaction and financially. I plan my order well, making sure I bring only the bread I'm sure I'll sell and then focus on selling our pizza range where I get to return unsold stock.It works really well for me.